Disclosure: Post sponsored by Spherion, but all opinions are my own. Please see below for additional disclosure.
As you may know by now, I've been provided access to information from Spherion's Emerging Workforce Study findings.  Today's blog post will be talking about the The Workplace that employers will need to have in the future to be successful.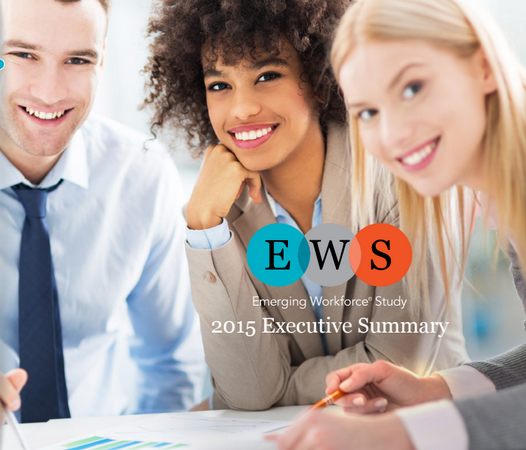 About the 2015 Emerging Workforce Study
The Emerging Workforce Study by Spherion has examined the issues and trends impacting employment and the workplace for more than 18 years. The 2015 study examines several forward-looking trends and indicators for what the future workplace will become. As the perspectives, attitudes and expectations of the workforce continues to evolve, employers need to better understand workers for greater success.
What else should you know?
More than 2,000 workers and 225 human resource managers were surveyed on their opinions and attitudes around critical workplace topics such as recruitment, employee engagement, job satisfaction, retention, employee advocacy, social media use, generational differences and work/life balance. Findings from this in-depth research reveal new trends, insights and impacts that are important for U.S. employers and their employees.
The study was conducted by Harris Poll, a Nielson company, between March and April 2015.
The survey offers great statistics and trend information for HR managers and businesses and points to an interesting, growing gap between employers' and employees' views.
The survey also includes data that can impact HR strategies to increase engagement, productivity and retention, among other topics important to the employment life cycle and workplace.
The Workplace that Employers Will Need to Have in the Future
The Emerging Workforce Study has overwhelmingly illustrated that more employers are offering work/life balance.  You know this.  You see this everywhere. If your company doesn't offer great work/life balance perks than you're absolutely jealous of a friend whose company does. Employers are also reporting on the growing recognition of these programs and how they've improved worker engagement, retention, and motivation.  However, workers aren't 100% satisfied with their work/life balance options.  Here's more information from the study and what needs to happen in the future in the workplace:
The findings:
More than two-thirds of employees are not satisfied with work/life balance programs offered to them.
More employers are offering formal and informal work/life balance programs this year, like telecommuting (53), flex-time (60%) and sabbaticals (39%). This is great as workers are willing to take advantage of these programs, even if their company didn't offer them:

Flex-time: 52%
Telecommuting: 46%
Paid time off for community service: 32%
Sabbaticals: 29%

A new trend that the Emerging Workforce Study uncovered is employers offering sabbaticals to employees. Sabbaticals have significantly increased as a work/life balance program offering for workers (39% in 2015 versus 17% in 2014).
Employers are also increasingly adjusting their offerings to include work/life balance options that workers desire. And they are noticing that it's positively affecting worker satisfaction (81%), productivity (73%) and recruitment (62%).
However, workers are still needing balance between their job and their lives, and that may not always be achieved through formal or informal programs. One-third (33%) of workers think the distinction between work life and personal life is not very clear these days.
One solution to tackle the work/life balance could be a different working arrangement. Workers indicate that if they could choose the ideal work arrangement, the following would be most appealing to them:

Working full-time both in an office and remotely: 37%
Working full-time in an office: 27%
Working full-time, but remotely: 18%
As a remote freelancer or contractor: 8%
Working part-time in an office: 5%
Working part-time but remotely: 4%

Employers agree that working full-time both in an office and remotely is the most beneficial work arrangement (44%) and working full-time in an office is second most (37%).
My Thoughts
This is really going to come down to which companies are offering the greatest work/life perks ever AND/OR the highest total compensation package.  People now look at work as an addition to their life, not their entire life.  If work doesn't allow them to succeed in their personal relationships, then they'd rather take less money.  This is especially true in Millennials.
Over the last 5 years we've seen so many large organizations allow their complete workforce to stay at home.  While this doesn't work for every company, the ones that are doing it are having success.
The companies that can figure out how to let their employees live the lives they want, while also giving them the tools to complete needed tasks at work are the ones that will be able to keep employees on the job.
Looking for more information on the 2015 Emerging Workforce Study findings?  Just click here for more.
Follow Spherion on Social Media:
Spherion partnered with bloggers such as me for their Emerging Workforce Study program. As part of this program, I received compensation for my time. They did not tell me what to purchase or what to say about any idea mentioned in these posts. Spherion believes that consumers and bloggers are free to form their own opinions and share them in their own words. Spherion's policies align with WOMMA Ethics Code, FTC guidelines and social media engagement recommendations.
{ 0 comments }