Some people are happy to spend their career being told what to do by others. However, many would much prefer to be the one in charge. Managerial positions allow for more control over the work you complete and give you more responsibility. A lot of people who want to move into management consider project management. It is an excellent way to be involved in your chosen industry and have more authority. If you're trying to build a career in project management, the internet is one of the best tools at your disposal. It can help you build your skills and make the right connections to advance your career.
Study Online
One of the overlooked methods of advancing your career is to study more. Many people will read the latest blogs and keep up with the news. However, it's easy to forget to keep your skills refreshed. Extra study will help to boost your career by keeping your skills sharp and helping you stay up to date. But why study project management online? Many prefer a classroom setting, but that's not convenient for everyone. Online study allows you to do your work whenever you have time. You can also do it from wherever you like, whether it's on a bus or in a cafe.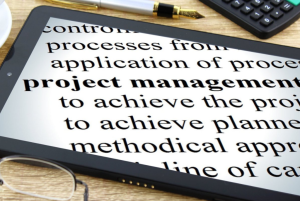 Network
Knowing the right people is essential if you want to advance your project management career. It's especially important if you have yet to take your first management role. The internet is ideal for gaining access to contacts you might otherwise not meet. It's also useful for strengthening relationships with people you already know. Most professionals use LinkedIn, but it's also important to recognize the importance of Twitter. It's a great place for conversation, even though you can't go too in-depth. It's a good platform for sharing tips and learning from others.
Find Available Positions
Of course, you can use the internet to look for new jobs too. In fact, it's the primary way of looking for work today. If you don't apply online, you're likely to be head-hunted or recommended for the job. Finding the best places to look for project management jobs is important. LinkedIn is one site where you should keep an eye out, and you can set your preferences to find jobs suitable for you. You can also find specialist websites for project management jobs.
Create a Professional Portfolio/Resume
Since much of the job hunt is not digital, creating an online portfolio or resume is a good idea. Your LinkedIn profile can serve as this. But it's also worth considering making something unique. Depending on your industry, a creative website that highlights your best projects could help to give you an edge while looking for work. It can also help employers find you when they're looking for potential candidates for a role. If you want to build your personal brand, you should create a website.
The internet can give your project management career a boost using a variety of methods. Of course, you're the one who has to put the work in.
{ 1 comment }