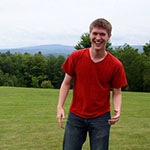 Zach Groth is a senior at Ball State University. On the post-graduation job search himself, Zach has job experience in corporate, government, nonprofit and student-run organizations. You can tweet him any questions, concerns or blog ideas on Twitter at @zgroth.
Trust your heart if the seas catch fire. Live by love 'til the stars walk backwards." -E.E. Cummings
It's about taking chances and knowing that you have to be a raw nerve at this age because there's nothing to lose.
I have an all-American mom and dad and some of the greatest friends to call my own. My golden retriever plays in my fenced-in backyard, and my tree house serves as a summer get-a-way full of childhood memories. Like any good Hoosier, I live in a cornfield. I did not attend some college prep high school that costs as much as college tuition. I attend a large public university and am majoring in public relations and journalism. It goes without saying that I am the most average person that one could imagine. With that being said, at least once a week I am asked, "How do you get these jobs?" or something people say with a hint of shock and attitude like, "What makes you so special?"
My response is simple: I'm lucky.
Well that's cool, but really… no one is going to luckily pick your name from a hat and give you an internship or job. I don't think my average lifestyle is impressive to employers. Why would it be? I don't go to an Ivy League school; I haven't traveled around the world – or really do anything noteworthy for that matter. Frankly though, I have two internships I have completed in college so far that are pretty selective, and had four more than only build my résumé.
My first internship was after my freshman year of college. Two days after school let out for the summer, my dad and I drove to Capitol Hill so I could begin working for the United States Senate. My position entailed walking senators, politicians and their guests around the Capitol—as well as working with media and technology to get a better understanding of the "behind the scenes" at Capitol Hill. In essence, I had one of the more sought after Capitol Hill experiences. This is an experience that two congressional interns had the opportunity to complete.
In September of 2011, Red Frog Events (RFE) visited Ball State's Career Fair, and I was immediately captivated. I applied and was offered a summer "tadpole" position. On May 14, 2012, I walked into Camp Red Frog and was told that more than 25,000 "tadpole-hopefuls" applied for one of the 150 positions available. This was a rollercoaster of an experience where my duties changed daily.
I've been the assistant program director at one of the most elite youth camps in the world and been published on five continents after writing about horse races at Hoosier Park Racing & Casino. I've helped execute an award-winning special needs program at Ball State University's Prism Project and directed a team of six at the only accredited student-run creative communication agency through Cardinal Communciations. I've been around the block.
Now this may seem contradictive to what I previously said; after reading that, how could I proclaim that I am average? Because I'm not. When I applied to be a congressional intern, my uniqueness came from being young, not Ivy-educated, inexperienced and fresh. Everything that made me "average" actually made me unique. From there I use what experiences I have to advance and experience more. I didn't hide from applying.
You see, I capitalized on myself. I "threw what I knew." I didn't fill my interview with what employers wanted to hear. I told them exactly who I am. I shared what I had to offer, what I've done and why my passion is something unparalleled in their pool of applicants in a creative and personable way. It is so hard to be someone or something you're not – I've tried. My mountain of rejection letters proves that doesn't work.
There is nothing more annoying than telling someone about my experiences and having them say, "Oh, well I can never do that." Why? Why can't you tell people why you are extraordinary? That's not an excuse for me. It's never been an excuse. I'm not afraid of telling employers that I want more than anything to work for them. If you have one shot to impress someone – don't hold back. You'll regret it if you do.
Employers know, as college students, we have much to learn and experience. It's not about being the best at all times. It's about knowing what you do the best and knowing how to talk about that in a confident, not arrogant, manner. Know yourself. Capitalize on yourself. No one else is going to work harder for you than yourself.
Finally, if you ever think that you're too "normal" to get that dream internship or job, call me, and I'll tell you the full story of how a scrub from the suburbs of Indianapolis made it work for him.