The problem: The major job boards aren't helping your internship search at all.  Is the Marketing Internship you saw on that big name job board for real, or is it some dude in his basement just looking for free labor?  What you need is a helpful online community, run by Recruiting and HR industry professionals who KNOW what a good internship looks like.  Whether you're paid, not paid, or being offered college credit for your hard work, your internship experience should be heavily based on mentorship.  Where can you go to find variety, expertise, and a knowledgeable community?
The answer: YouTern.com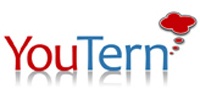 What is YouTern?
YouTern is a website that offers internship seekers access to positions available at start-ups and entrepreneurial companies.  They've also done a fantastic utilizing social communities like Twitter & Facebook, as well as using their own blog to present helpful employment related resources.  What separates YouTern from some other similar websites is that they were founded by experts with over a decade of experience in online recruiting start-ups.  Honestly, I can't stress enough how important it is to have industry professionals running a site like this.
YouTern's "My Account" Section
For all intents and purposes, this section is your internship search dashboard.  EVERYTHING you'll need to find an internship can be found in the "My Account" section of YouTern.  What will you find here?
My Profile – This section is critical.  You'll not only load up basic personal information (Location, contact, etc), but you'll also fill out the important detailed information of what kind of internship, if it should be virtual, etc.  Awesome!
My Resumes – YouTern makes it easy to upload multiple resumes, in case you have different resumes for each field you're interested in.
My Intern Alerts – Go through this section to select the specific type of internship you're craving.  YouTern will automatically send you alerts when those EXACT positions are available.   Alerts can be sent daily or weekly.

My Applications – Here is where you'll see which positions you've already applied to.  What I want to highlight here is YouTern's helpful tips to internship seekers.  It's a great touch on their site and a very helpful reminder to seekers.

Saved Internships & Saved Searches – I always stress about organization in the job search.  Saving specific internships that interest you will be a huge timesaver.  You'll see what you like about that specific internship and look for it in others.  The Saved Searches option is also a great tool.  Identify a few searches that target your desired results, then you can automatically click those searches to see which new internship positions have sprung up.
YouTern's Blog:  TheSavyIntern
As mentioned earlier, YouTern does a great job of establishing a helpful community.  Their blog already has over 150 internship related blog posts.  Here are three recent posts that I love:
What's Being Said About YouTern?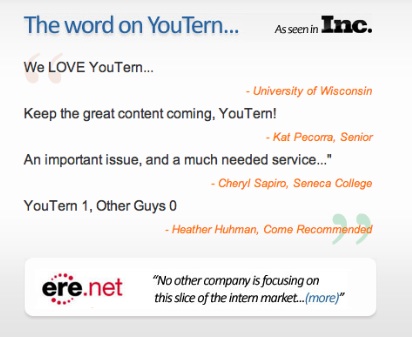 Other notable mentions for YouTern:
COTJ's Final Words
What I love most about YouTern is the variety of internships, the ease of use and functionality of their website, and how almost every page includes helpful tidbits.  YouTern understands what constitutes a solid internship experience, and won't work with companies that will leave you hanging.
Set up your FREE profile on YouTern, upload your resumes, and finally begin your internship search!  Simply go to http://www.youtern.com/, and click on "Register" up top to the right!
Want to learn more?  Check out the YouTern FAQ or read their "About Us" section.