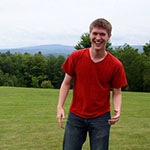 Zach Groth is a senior at Ball State University. On the post-graduation job search himself, Zach has job experience in corporate, government, nonprofit and student-run organizations. You can tweet him any questions, concerns or blog ideas on Twitter at @zgroth.
..
I came into freshman year of college knowing that I wanted an internship.  I also knew that I had no idea what I was doing as I searched for the internship.  No one ever told how to get an internship or really what I needed to do to get one.  So there I was, 18 years old and sending out a three-page resume that the AP Style gods would strike me with lightning if they saw.  You know what, I did my own thing.  It is unorthodox.  It's weird.  It doesn't work for everyone, but it worked for me and has continued to work for me.
Here are a few of my steps on how to land your dream internship!
1. I stay away from job boards
I have not received any of my seven professional internships from going to a job board.  My process is simple, but involves a little more depth than just going to a job board and pressing that "automatically insert all information" button.  That button never even gets my name correct.
Truth told, that the majority of positions posted are already filled, according to a career expert for LinkedIn.  A mere 18 percent of external hires can be attributed to "job" boards, according to the recruiting site CareerXroads.
I start by finding an industry I think would be fun.  I define fun as something that I would want to do.  Once you find an industry that is fun, it is easy to sell yourself and show your passion for a position.  As we all know; passion sells. Use it!
From there I find a list of companies who would be considered industry leaders.  I have never come up with a list of less than 20 industry leaders.  This list is what I consider my job board.  I get my application materials ready (they all should be unique – incorporate company mission statements and anything that makes them unique from their website), then I send my materials.
2. Thank you letters for all sorts of occasions
This one is important.  I guarantee that you will be remembered by anyone that you use this technique on.
Maybe I hear back, maybe I don't… either way, I follow up. Here's the part where you stand out from everyone.  If I get more than an automated "thanks for your interest" email, I send a hand-written thank you letter.  This means if I get a personal email back saying the position is filled and your application wasn't up to our standards anyway… thank you letter.  If I get a call back asking for an interview… thank you letter.  If someone goes out of their way to communicate with me personally then I want to show them my appreciation.  They are professionals, and with or without a position available, you need to treat them like so.
One time, I was told that there were no available positions.  I emailed them back and thanked them for their time.  No response.  They received a hand-written note a few days later.  Within the next week there was a position available… I'm just going to let you imagine who their first call was to…
It was me. #winning
3. I have a digital footprint
Employers have seen a huge change in the past years when it comes to a human resources executive checking out candidates' social media. It used to be that they looked for inappropriate posts. Now, a job seeker has to have a digital footprint.  This is to avoid the title of being considered digitally illiterate.
I am very active on social media.  Frankly, I tweet things that are funny to me.  As a 22-year-old college student, I think it is appropriate to talk about alcohol on social media.  There is a line between "typical college kid going to the bars on a Friday night" and "Wow. He's blacked out and it's only 7 p.m."
I am also very careful about using vulgarities on social media.  I do not use cuss words or words that can be seen as offensive.  I do use a strong level of sarcasm.
I post about my industry when I am not posting about my personal life.  I follow the news and stay up-to-date on things happening in the world.  I use my social media as a vehicle for conversation with professionals, employers and friends.  There is a way to do that without creating a second profile for "professional" reasons.
4. I am honest.
This is simple.  I am honest with employers.  I don't just tell them what they want to hear.  That is easy, and most employers can see right through your web of lies.
Be honest with employers.  If you need to know about something, just ask.  They are professionals, but they are people.  If you present your issues in a professional manner and they still hate you. You probably don't want to work there anyway.