I was recently told that I have an infected wisdom tooth.  That was part one of COTJ hears poopy sandwich news.  Part two is that my tooth and his three idiot counterparts will be extracted on February 1st, 2011.
Why is this happening to me at the tender age of 27 and 1/2?  Why do human beings need wisdom teeth at all?  Don't answer, just listen to my story for now.
So, here I am sitting on the dental examination chair, with my mouth stretched open way too far, and the Dr. talking Doctor-ish about the needed procedure, anesthesia, and my health insurance.  While he's talking about the difference between impacted and non-impacted teeth, my mind drifts into deep thought about our species'  useless parts, like tonsils, the appendix, wisdom teeth, pinky toes (would you miss them?), and dude nipples.  At some point in this deep dream of misfit body parts, I shook my Doctors hand, scheduled an appointment for surgery, and drove home, still angry and thinking about why we have useless parts.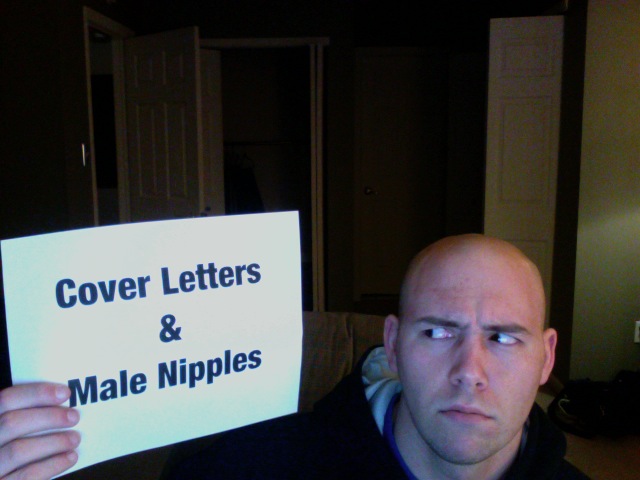 3 Reasons Why Cover Letters Are Like Male Nipples
Naturally, the job search dweeb in me started thinking about how nipples (I'm really caught up on this) and cover letters should meet up.  Not everyone will agree with me, but here's my logic:
1. Very few people notice them
I've never heard a girl say, "That guy has great nips".   There has to be some nipple girls out there, but most women like arms, face, humor, personality, etc.  Maybe dudes with nipple rings(why?) or really large and creative nipples draw a crowd, but it's rare for male nipples to be the center of attention.
The same can be said for cover letters.  Most recruiters will tell you that they don't read cover letters (unless a requirement), and that they go straight to the resume.  They may check out the cover letter if something seems interesting about the candidate, but the resume is what they spend their time on initially.
Lesson learned: Your cover letter needs a nipple ring.  Do something to bring attention to it or trick the recruiter into reading it.  One trick that works for email submissions is writing your cover letter in the body of the email, or throw a teaser in the body and direct them to the cover letter to read more.
2. You look weird without them
I apologize to shark attack victims, but a body without nipples must be odd looking.  I know that mine are useless, but they're staying put.  Nipples are just expected to be there, it's odd to think of them gone.
And again, the same can be said about cover letters.  Maybe no one will open them, but not having cover letters is just weird.  If you told a recruiter that you didn't have a cover letter, they probably won't take you seriously.  Kind of like how you won't take me seriously if my nipples fell off one day.
Lesson learned: Always be ready to flash your cover letter.  Have it on hand, and tweak it up to fit the company and position you've applied for.
3. You might not need them
Men, you really don't need them.  As weird as we might look without them, we may evolve one day to be nipple free.  Maybe you use them for something creative like nipple painting or something, but for most of us they just sit there.
The level of importance of a cover letter depends on the person.  Someone with strong network connections and social media presence might not need the cover letter as much as someone else.  However, folks in Marketing Communications might be constantly asked to provide them.
Lesson learned: Some people will stroll through life never needing a cover letter.  That doesn't mean you shouldn't have one, so make sure it looks lovely and be ready to send out when needed.
If you liked this ridiculous post, please click here to subscribe to receive instant updates!