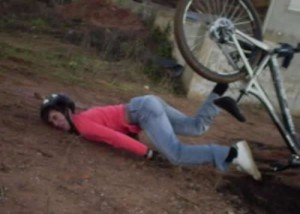 I used to ride my bike everywhere.  To the hobby shop, through the park, to my friends houses, and on the dirt track where I did "tricks".  When I discovered roller blades and roller hockey, my bike was put away in the shed and never used again.  For the next 15 years or more, I avoided my bike, and up until a couple weeks ago, I've been bike free.
My family recently rented a place down at the Jersey Shore for the week, and my pops decided he wanted a bike down there with him.  When I was scoping out the place, I stumbled on his bike and decided to try it out.  Ok…so like you, I've heard the "It's just like riding a bike" phrase many times, so I figured it might as well be true.  Well, to my amazement, re-learning how to ride a bike isn't all that simple.  Whoever has used that awful phrase should write out "asshole" on their fore head.  Seriously… when you haven't rode a bike in a long time, it's just not that easy…
The point I'm trying to make here is that nothing is "just like riding a bike."  When your skills lay dormant, you will certainly lose a step.  There will always be at least a little bit of rust to work off before your skills reach their previous level.
When it comes to long term unemployment, keep your skills fine tuned.  Stay as knowledgeable as possible by reading blogs and books, attending seminars/conferences and workshops, talking to folks in your industry at networking events, bringing your skills home (if applicable), or whatever else may keep you current.  This not only helps in the interview process, but saves precious "ramp-up" time when re-entering the work force.
Even simple things like waking up consistently at 6AM (or whatever time you would normally get up for work) helps.  The more you do to stay in your professional habit, the easier the transition will be back into your professional life, and less likely you are to crash when you hop back on the bike.
What do you do to stay current?
Can you ride a bike?  Seriously?  Can you?
No, really, can you?