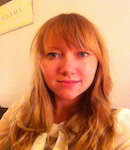 Natasha Hodgson is a careers and entrepreneurship enthusiast, currently working as Community Manager for vibrant internships and jobs platform Enternships (@enternships).
.
.
The good thing about this seemingly endless dreadful job market is that employers are more likely to be sympathetic and understanding about a couple of gaps in your resume. The bad thing is, of course, everything else.
If you're worrying about a period of time you didn't work, a sudden dismissal from a previous job or any unaccounted for time on any of your applications, fear not. It's better to address and deal with the issue head on, than trying to fudge the dates, or squirrel the information away.
1. Use employment gaps to highlight training, volunteering, skill-building
We never actually stop learning, is the first thing to note. No, you might not have been being paid for what you love to do, but – as we've established – this no longer means much except the fact that, like many others, you have been unlucky.
The most important thing here is not that you weren't able to find paid work, it's showing what you DID do in the face of this frustrating situation. Taking online courses (there are so many great ones out there now), boosting your technical know-how, learning a language, getting an internship, showing that you are a person who doesn't rest on their laurels is massively important. After all, it's not how often we fall, it's how we get back up again. And then write a resume.
2. Use the time to stay up to date with your industry
Another vital part of impressing a prospective employer is demonstrating knowledge about the industry you want to get into. Just because you're not employed full-time, this is no excuse to lag back on the latest developments. If anything, your time should be freed up so that you can final research relevant news, attend conferences, workshops and talks – build your network even when you're not on the job.
3. If you were dismissed, prepare to be asked about it
You actually needn't include a job you were dismissed from if it was more than 10 years ago, or if the job only lasted a few months – but if it was your last place of employment, you should probably think about what you'd say if asked about it.
Thing is, it needn't be something covered in shame – as long as you can extract value from the time you spent there, and explain concisely and frankly why it didn't work out in a way that frames it as a learning experience. What positives were there to take away from it? How did you demonstrate valuable qualities during, or as a result of the experience? Potential employers will appreciate your frankness, just as long as you're able to focus on what good came out of the situation, rather than the bad.
Also, make sure you pull the discussion around to how this role differs from the role you were dismissed from – and be ready to list the ways in which it fits you far better than your previous role did.
4. Health problems? Mention if necessary, and move on
When we say 'if necessary', we mean two things:
– If the illness you had was serious enough to provide a noticeable gap in your employment history
– If an ongoing illness affects your working life now
Essentially, if you don't need to talk about it, don't. Employers want to see you at your best, and you don't want to hand them a reason to think you might not be 100% up to the job. Of course, if you do have an ongoing illness that they need to take into consideration, you will need to be honest about that – but wait until you're at the end of your interview, having given them a good chance to see the best in you first.
5. The relevant experience paradox
Ah, the eternal problem. Needed relevant experience to GET relevant experience. This is especially tricky for people just starting out, or career-changers looking to find a job in an entirely new sector or industry.
The vital thing here is to research exactly what skills your prospective employers are looking for, and ensure that you demonstrate them in the work/experience you have done. Sure, it might not be an exact match in terms of dot-to-dot experience, but demonstrating a fresh perspective on a desired skill-set will never been seen as a bad thing. Again, it comes back to demonstrating a real passion for the skills they desire, and a self-starting attitude. If you can pique their curiosity, you can get them in a room. And if you can get them in a room, you can show them what you're capable of. It just takes looking at what you have done to date through their eyes.