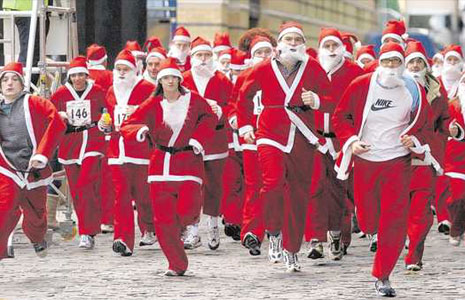 Grubbing on some beef stew last night for dinner, I reached over and grabbed the 'Jobs' section from the local paper.  Each week they cover an 'out of the box job'.  In this weeks edition, the job in discussion is Santa Clause, and just how jolly the seasonal job can be.   Stuffing my face and smiling, I continued reading as my mood started to cheer up, rosy cheeks and all.
Everyone knows that thousands of men are hired each year to play Santa Clause in hospitals, malls, department stores, banquets, or wherever.  What might come as a shock is that some Santa's are making $175 per hour.  A real beard plus a stout figure equals a higher wage for Mr. Clause.  Also determining rate is location, the group hiring Santa, and of course how many years he's spent in the North Pole.  Putting the paper down for a second I thought that maybe adding on another 20 pounds of winter fat wouldn't hurt, and let's be honest – shaving is over rated. 
There has to be a con to this kick ass seasonal job, right?  Well, besides long hours in an awesome costume all day I really couldn't come up with too many downers for this gig.  Santa is more famous than Oprah, we are talking world-wide fame.  Children and adults greet Santa with smiles, hugs, and cookies.  How are the customer service associates at Best Buy greeted?  If you need further convincing, just talk to Tim Allen.  The man loved becoming Santa so much that he did it two more times.  
That's not all.  The group of Santa actors that feature real beards meet annually to celebrate their stories and network with each other.  These top notch Santa's are part of a group called The Amalgamated Order of Real Bearded Santa's.  Don't believe me?  I googled it…