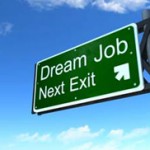 The start of a new year gives us time to reflect on the year gone by and make plans for the year to come. For many of us, this includes assessing our career prospects. Little wonder January often sees a rise in the number of people looking for a new job once the mince pies and hangovers have worn off. And there's nothing to suggest this year will be any different.
Time to move on?
Many years ago, professional growth was something you did within a company, working your way up from mailroom to boardroom. Today, professional growth and career progression relies more on moving from one employer to another, never standing for too long on a single career rung but always looking for the next step up.
The average person changes their job every 4.4 years, and that number is halved when talking about the younger 'Millennial' workforce. The average Australian will also completely change career three times in their working life. Loyalty to a single employer is now outweighed by loyalty to one's own career.
Of course, too much job-hopping can be bad for your career too. Employers are naturally skeptical of resumes that list a series of short attachments. How can one grow and develop in such a short period of time to warrant that next step up the ladder? Genuine experience doesn't happen in short, disconnected bursts.
So when assessing whether the time is right to move on, be honest about whether you've gained everything you can from your current role. And be careful not to let your ambition run faster than your experience.
Knowing what needs to change
Also, do you know what it is about your current role that has caused you to seek change? Maybe it isn't your role or job description, but the industry or environment you're working within that has lost its gloss.
A secretary for a trucking firm can be a very different role to a secretary in a hospital. Just the personal interactions alone could cause discomfort or dissatisfaction in one more than the other. Yet both roles require the same skills. Instead of deciding to change careers – leaving your secretarial skills behind and retraining – it could be that you just need to apply your existing skills and experience in a different scenario, bringing you greater satisfaction.
What sort of environment do you want to work within? What industries have more interest to you? Which skills do you enjoy using and which would you like to use less? Be careful to avoid throwing away valuable skills and experience for the sake of factors that may be unique to your old job.
A change is as good as a holiday
Sometimes the attraction of a new job is merely to revitalize your day with fresh and new experiences. There's much to be said for making a change to keep yourself motivated.
One such change is to earn a new advanced degree through an online university. Going this route allows you to stay at your current job for the moment and take classes in your spare time. Then, once you have completed your degree, you can move directly into a new career, even in an entirely different industry. An advanced degree can open up new doors and allow you to move into a management position, rather than maintaining the status quo on your current path. If you want the new you to grow in the New Year, you have to visualize your goals, put together a plan, and push yourself to take the first step.
Whatever your reasons for considering a new job in 2014, take some time to assess exactly what it is you want and plan solid goals to help you achieve it. For more recruitment advice, visit Robert Half Melbourne.