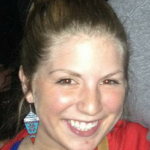 Bianca Cadloni is a social media specialist at Cactus (full service advertising agency), in Denver. You can tweet her at @BCadloni.
Remember me? My name is Bianca, but I've been dubbed "Chipotle Girl" by the internets. I'm one of many in the growing trend of Hire Me Campaigns. I was trying to land a "dream job" with Chipotle in September of 2011, but any place that would have hired me would have been my dream job.
What drove me to try a Hire Me initiative, was the success of my friend's campaign for Turner Broadcast in Los Angeles. When the right job posting came to my attention, I went for it. Chipotle was looking for a social media coordinator, and I knew I could go above and beyond their expectations. My Hire Me Chipotle cost me $25 dollars for WordPress web hosting, but the life lessons I learned were priceless.
I didn't get the intended reaction out of Chipotle, but I wasn't expecting an interview. If anything, I thought I would have a cool story to tell down the line. In this job market, the only way to get noticed is to stand out. The outpouring of support was overwhelming, and I had people pushing my message to Chipotle daily. They were aware of me, but chose not to interview me.
The internet was quick to judge my campaign as a failure, but I disagree. I may not have received the position, but that doesn't mean I failed. What defines a failure to me, is someone who doesn't learn from their experiences. After five weeks, and not so much as a peep from Chipotle, I disbanded my campaign and set my sights on my true passions. I got the message that they weren't interested, and invested my passion for social media back into my degree: advertising.
If you had asked me in college if I would be working at the advertising agency in Denver I admired most after I graduated, I wouldn't have believed you. In fact, as I type this, I am still in shock that I landed here. Around the time of disband, my current company was seeking a social media intern. Because I had branded myself for employment with Chipotle, I was able to stand out in the hiring process. I was offered the position, and started my internship in December, and it was as if everything clicked for me.
They say if you love what you do, you will never work a day in your life. For me, even unpaid, I loved coming in to the office. Through hard work and determination, I was hired as a social media specialist in March. Looking back on my campaign, I never thought I would have ended up in my ultimate dream job.
I am so glad my current company saw in me what Chipotle didn't bother to discover. I wouldn't have gotten where I am today without taking a leap of faith into the unknown. Thank you for not hiring me, Chipotle! I cannot thank you enough for changing my life for the better!