The Problem: You really need a telecommuting, part-time, flexible, or  freelance job, but have absolutely no idea where to even begin searching.  Once you come across a few positions that you think match your needs, it's hard to tell whether the positions are junk/scam or real jobs.  It's a mess, it's time consuming, and it's frustrating the hell out of you.
The Answer: FlexJobs.com

What is FlexJobs?
FlexJobs is a website for anyone looking for flexibility in their work.  An example could be someone that's simply looking for part-time work, or it could be someone that absolutely needs a telecommuting job.  You'll also find freelance and flextime jobs posted on Flexjobs.
Flexjobs is currently listing over 4,000 jobs from over 1,800 companies.  That's such an incredibly high number, especially because Flexjobs researches out the positions and screens companies and job descriptions to make sure it's what the user needs.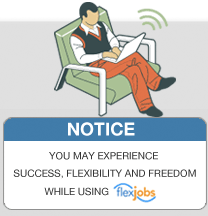 FlexJobs Does The Research For You
It's already been mentioned, but it needs to be said again.  Finding a flexible job on the internet isn't easy.  Many "flexible" jobs you'll find online are scams or fake jobs, which is incredibly frustrating as a job seeker.  FlexJobs understands this problem, and makes sure to spend a boat load of time researching and finding the jobs that you crave.  What exactly do their researches do?
The FlexJobs team goes through hundreds of online job resources everyday, including industry blogs, employer sites, job boards, and more.  They go through these jobs to ensure they are professional, legitimate, and offer some level of flexibility.
When they find promising jobs, they then research the company to make sure that too is legitimate.   If the company passes, they add the job description and helpful information about the company to FlexJobs.
SAVE YOU TIME!  You know how people say that looking for a job should take 40 hours a week?  Well, it's true.  FlexJobs does the research so that all you need to do is spend an hour or two per week looking for interesting jobs that fit your flexibility requirements.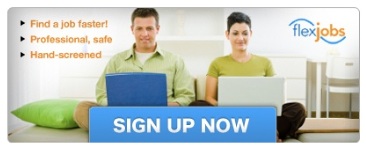 What Do You Get With FlexJobs?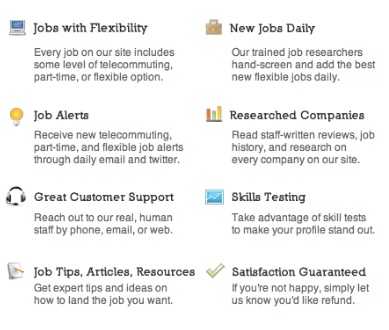 The Top Benefits of FlexJobs
Zero scams or fake jobs: I can't stress this enough.  This alone is reason to sign up for FlexJobs today!
Best variety of professional and flexible jobs: FlexJobs already has over 4,000 flexible jobs, and that number is only going to increase everyday.  While most of the positions are in the US, they have jobs posted from all over the world.
Easy to use website: From being in the industry for a while, I can flat out tell you that most job boards try to be simple, but fail to do so.  The FlexJobs website is easy to navigate while also including a ton of cool features.  It's easy on the eyes, simple, and atheistically pleasing.
Spend less time searching: Their researchers have screened out the companies so you don't have to.  Instead of spending 5 hours a day, just spend a couple hours on Flexjobs and feel confident about where you send your resume.
You get what you pay for or you can ask for your money back: FlexJobs has affordable monthly or annual pricing for job seekers.  When you become a member of Flexjobs, your time searching for flexible jobs is immediately reduced and you now have access to thousands of positions that meet your flexibility requirements.  And if for some reason you aren't happy with FlexJobs, just cancel your membership and ask for a refund!
Why Pay for FlexJobs?
You might not be used to paying to search for jobs, and I understand if you're a little bit confused.  Before I talk about the monthly or annual subscription price, let me explain why a job seeker would want to pay:
GET TAKEN SERIOUSLY – If you apply through FlexJobs, a company will know you are serious about your job search and your resume and application will be viewed.  We all talk about how job seekers never hear back when applying on big name job boards, right?  Well, that's because it's free and companies receive thousands of resumes for every position.  With FlexJobs, you're instantly taken seriously and your information will be viewed.
FlexJobs Cuts Your Search Time in Half – Seriously, do you want to spend 20, or even 40 hours a week searching for flexible jobs and then researching the company?  Let FlexJobs dot his for you.  That alone is worth their very reasonable price.
Subscription Plans
$14.95 for a month –  If you're thinking you'll just need a short job search, than go with this option.  Or maybe you just want to try it out before springing for the year subscription.
$49.95 for a year – You'll save over $120 by going with this option.  Perfect if you're anticipating a more long-term job search.  This is great for freelancers or those continuously looking for opportunities.
FlexJobs Testimonials
"I have wasted a lot of my time applying for jobs that are nothing but quick scams.  I have even lost money in some cases.  That's why I signed up for Flexjobs.  The monthly fee is so minimal.  I had access to many professional jobs and some of the best part-time jobs.  It was nice to apply for jobs without the worry of who might be looking at your personal information." — From a user who found a job in  just 2 months on FlexJobs

"Excellent site! Thanks for helping me find a position where I can work from home! I had applied for quite a few jobs online and received no response. Just when I was about to give up my online job hunt, I was thrilled to land a job on FlexJobs.com. I found a job that is exactly what I have been looking for and it fits with my previous work experience. If I could tell people one thing, it would be to not give up. There may be something in store for you! Thank you, FlexJobs.com!"  — Kristin Chandlee, Minnesota

"I am very grateful to FlexJobs! I have been searching for a work from home opportunity that would provide steady income and the flexibility I need while I care for my children during the day and run a successful consulting business. I am looking forward to the opportunities this position will bring. It was definitely worth the small subscription fee!"  — Kinyana Holmes, Illinois
More on FlexJobs
COTJ's Final Word
Since learning about FlexJobs I've been impressed.  It's pretty refreshing to find a team that understands it's hard work to be successful in "the jobs" business.  Researching positions and companies takes a lot of time off of the job seeker, which to me, is the #1 reason why someone would want to sign up for FlexJobs.  Oh, and it doesn't hurt that the website is fantastic, easy to use, and their are over 4,000 flexible jobs.