Successful businesses are able to keep their employees happy long-term, as this encourages continuity in the company's day-to-day operations. Unfortunately, only 19 percent of workers feel truly satisfied with their careers and that is preventing many organizations from meeting expectations. An increasing number of companies are now studying the determinants of job satisfaction to help them create a workplace that provides the positive experience that employees seek. Factors like opportunities to use their skills, fair compensation, job security, adequate communication, and a positive relationship with supervisors all add to the employee experience and should be considered by any organization that wants to improve worker satisfaction.
It's a fact that if a business has a high rate of staff turnover it can hurt a company's profit levels. Estimates show that replacing a valuable staff member can cost thousands of dollars in order to find and train a replacement.
It's a fact that if a business has a high rate of staff turnover it can hurt a company's profit levels. Estimates show that replacing a valuable staff member can cost thousands of dollars in order to find and train a replacement.
Indeed, not only are time and expenses incurred in the recruiting process of a new staff member, often the workload is passed onto the rest of the staff resulting in highly stressful workplace environment and a loss of productivity. The whole process can be counterproductive to reaching your targets and often it is better to focus on keeping your existing staff happy, motivated and productive so that they don't look start looking at the classifieds.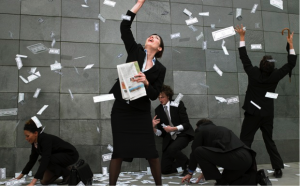 Source: Robert Half
If your business is struggling to retain staff, check out these five simple tips to keep you employees motivated and happy.
1.    Increase autonomy
Positive psychology studies have shown that one of the most important elements of happiness or satisfaction in life is autonomy – we humans like to feel like we have some control and say in what we do in life. While your staff members obviously need to follow certain behavioural and company guidelines, you can give them more autonomy in how this is done. Steer clear of micromanaging your team members and instead let them see that you trust them to complete the work in the way they see as best.
2.    Acknowledge and reward contribution
Lots of managers overlook just how important recognition and praise is for employees (evidenced by many studies that show it's often the number one thing that keeps staff members engaged and happy in the workplace). While you can reward employees with bonuses, products, trips or vouchers, sometimes all it takes is a simple, heartfelt (and cost-effective) show of praise and acknowledgement. An email, a thank you note, a ceremony in front of peers or a framed award are all ways that you can recognise an employee's contribution.
3.    Communicate openly and honestly
No one likes to be kept in the dark or second guessing their role within the company, so as a manager or owner, it is important that you foster a culture of open and honest communication. Keep your employees informed of important company decisions as early as possible, and also get them involved in the decision-making process, when appropriate. Your staff members will appreciate being both informed and involved and will be much more likely to stay loyal to the company and engaged in their work.
4.    Help establish a clear career path and growth plan
Your staff members want to know where they could end up in the company and how they might go about getting there. If you look out for your employee's interests and aspirations, rather than just those of the company, you will foster loyalty and help to keep them engaged and productive. It's a good idea to set up a program of annual or even monthly reviews as an opportunity to check-in with your employees and to discuss ways that they can advance within the company.
5.    Create a motivating culture
Many owners and managers overlook the importance of a positive work environment for employees. Create a happy and productive culture in the workplace by leading by example. Don't encourage gossip, pettiness, excessively long hours, criticism or any type of negativity at work and you'll soon see engagement and retention levels rise.
In addition, you might think about trying to retain staff by increasing their salary. That said, you do need to ensure that your staff are paid fairly and to industry standards, so take some time to read up on pay levels from a salary guide like the ones from global recruiter Robert Half.
Ensuring employee engagement and happiness is a sure fire way to reduce employee turnover and to grow your business.
Kevin Jarvis, Director – New South Wales, Robert Half
Originally from Southampton in the UK, Kevin has 17 years of finance, accounting and project recruitment experience. Kevin joined Robert Half in October 2001 in the London West End office, before moving back to Sydney in 2003 to manage and grow the Australian business. After heading up the Management Resources division, Kevin led the start-up of our first Robert Half Technology business in Australia. He was subsequently promoted to Director of Sydney in 2009, and quickly took over managing the wider office network in New South Wales in 2010.
Read more at http://www.careerealism.com/quitting-questions-ask-yourself/#mfSE1fIkI6uluIFz.99