Today I have some incredibly exciting news for you guys on this lovely Tuesday morning.  I'm pleased to announce that I was selected to write for Untemplater.com as their Career/Productivity author.  When I was approached by Jun Loayza and Carlos Miceli about joining the all-star team at Untemplater, my first questions were surely similar to what you are asking in your head now…
What the hell is Untemplater?
Untemplater asks the question, "Are you happy and doing what you want with your life?"  The quick answer is, "yes, of course I am", but sit back for a second and think harder.  Is this the life you want, or are you just following the template?
I'm not suggesting that everyone immediately leaves their 9-5, their 40-60 hour work weeks, or their smelly co-workers, but I do believe in continuous evaluation of happiness, and so should you.  We all have dream jobs, crazy aspirations that maybe we don't even share with our best friends, and places we'd love to live.  Sure, we can spend our careers pleasing our bosses and climbing the corporate later rung by rung.    Then one day,  we will hopefully retire wealthy enough to spend time with family, travel to exotic places, and live a life of leisure.
Untemplater asks, "Why wait for that life?"  The life you want and deserve is yours to take, and Untemplater is your guide.
What does this mean for Corn On The Job?
Joining Untemplater will only make COTJ a better place to hang out.  The experiences and lessons learned will follow me back to COTJ, which will then become your knowledge.  This opportunity also brings added exposure to COTJ, expanding the community WE have built together.
*COTJ and its focus will remain the same, and I'll continue writing the content you crave and expect.
Where should you start at Untemplater?
Here are a few spots to check out when you visit Untemplater:
Meet the Authors – Seriously, check out the awesome cast of characters (I'm towards the bottom)
Untemplater Business – This is the section where my sub-category, Career/Productivity will run
Subscribe – Even if the untemplater life isn't for you, come support me!  I won't let you down
lastly…
Check out The Untemplater Manifesto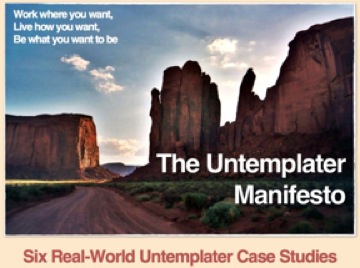 The Untemplater Manifesto is an inspiring must read that showcases the untemplate path that six Gen Y leaders chose for themselves.  Make sure to check it out when you have 5-10 minutes!