We all know that there are more options than just applying online to gain attention from target companies.  Twitter has become one of the most talked about resources, which sits right up at the top of the list with Linkedin.  Some people resort to mailing in their applications & resumes along with their electronic submissions.  Some folks create Facebook advertisements targeting specific companies they'd like to work for.  Some get creative with Google AdWords.
Your job search method these days can now almost become a reason for companies to hire you.  When your search is innovative and reflects the position or industry you target, it can certainly put you ahead of other candidates who simply apply online.  Your innovative tactics may also push you ahead of a candidate that has more experience than you.  It's your ideas that the company wants to hire.  If your ideas already blow the company away before an interview, think about what that does for you.
One job search method that should grow in popularity is personal job search websites.  Websites like these will most likely fit best for social media, marketing, and PR job seekers, but other professions can find use for them. They aren't too difficult to create, and there are web developers around who will work with you on a price.
I wanted to quickly show off and review a friends personal job search website.  She was working in Florida in a job that just wasn't suiting her, and her goal was to move to NYC and work in a social media position.  It worked.  She landed a job as Social Media Manager with MTV News.
Take a look at SocialJenny.com, and then come back for my review.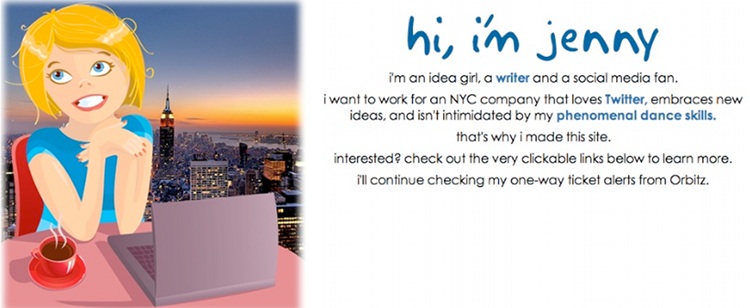 What does Jenny do right?
Home Page – I wanted to put in a picture of the home page above.  She not only makes her goal very clear, but she adds in a few fun links to show real proof of who she is.  She not only says this is what she wants and who she is, but proves it through what she's done already in social media.  While what I've stated already is a must, she also adds in a nice cartoony image of herself in NYC.  It's not a must, but it's a wonderful touch.
The last thing I'll talk about on the home page is how Jenny provides a course of action to visitors.  See how she clearly states to folks that if interested they should check out the links at the bottom.   Nicely done.
Bio/About Me Page – I thought that what she did in this section was very creative.  She answered her bio like it was a phone screen, covering basic questions like, What is your social media philosophy?, Why NYC?, and What is your ideal company to work for?  Perfect for a personal job search website.
My Work/Resume Page – Not only does Jenny leave a more open format style review of her experience, but she includes a link to her online resume.
Ideas – Companies hire us mostly for our ideas.  Jenny leaves some brain wisdom on how she'd handle a few situations.  This gives a potential employer a clear view into how she thinks and what she can add to their organization.
If you're going to take a stab at a personal job search website, make sure you have clear goals and ideas before jumping right in.  Know what position you target, the kind of company you'd like to work for, and know the value you can bring to those organizations.  It's not something that should be put together in a couple days, but it should be a well thought out process, and it needs to be done correctly.
Thanks to my friend, Jenny McCoy, for letting me review her website.  She blogs over at Workin' On A Ramp.  Say hello to her.