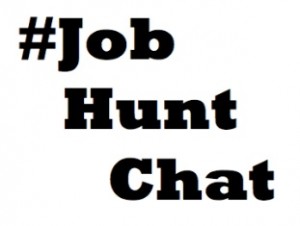 I'm happy to announce that #JobHuntChat is coming to Twitter!  The first, and quite possibly only Twitter chat focusing on the job search will launch its first chat on Monday, February, 15th at 10PM EST.
I've been excited planning this chat, but now that the idea has come to life, the rest is up to you.  #JobHuntChat will take your suggestions for questions every week, and the other co-moderators (who I will get to in a second) and myself will pick out four questions to be featured each Monday night.  So, who are the Co-moderators for #JobHuntChat?
Co-Moderators
Submitting Questions
Submitting your ideas for topics and questions is easy.  Just reach out to us in one of the following ways:
Send an e-mail to JobHuntChat AT Gmail.com
DM or send an @ mention to @JobHuntChat on twitter
DM or send an @ mention to any of the Co-moderators listed above
Comment on this post
We will reach out to people for specific questions during the week, and at times have themed chats planned where questions will be even more specific.  We want to hear from you, so don't hold back.
When is #JobHuntChat?
Chats will be every Monday, from 10PM EST to 11PM EST.  Our first chat is on February 15th
Who will participate?
This is the fun part!  I have absolutely no idea.  As you know, Twitter is a big place, and its only getting bigger.  Your questions will be responded to by other job seekers, bloggers, resume writers, career experts, HR professionals, recruiters, or maybe even @ShitMyDadSays.  We want to hear everyones opinion on the topics discussed, and Twitter allows us to do just that.
How can you participate?
For starters, send us your questions!  This is for you.  On Mondays, be on Twitter at 10PM EST, and make sure to follow each of the co-moderators.  We will be tweeting out the questions, and RT'ing the smart responses that we get.  We are looking forward to seeing how this baby forms, and your suggestions, comments, and questions will drive the success of this chat.
#JobHuntChat is here!  Never Hunt Alone Again!