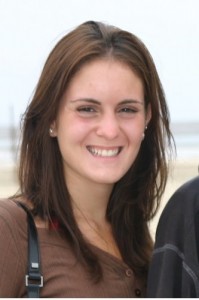 Editors Note: Today's guest post is from Marian Schembari.  Read through the post and catch our contest details at the bottom!
Marian specializes in social media for job hunters, sometimes gets paid to write and works with authors who want to build up their personal brand. She blogs over at http://www.marianlibrarian.com and usually features posts under the "uncategorized" tag but likes to pretend it revolves somewhat around Gen Y careers that don't fit in a box. She is launching a virtual classroom teaching recent grads, job seekers and freelancers how to use social media as the ultimate career tool. Follow her on Twitter. Do it now.
For all you regular Corn on the Jobbers, Richie conducted a sick poll on the most frustrating part about being a job seeker. Your response? The unknown. Not hearing back. I did a similar poll ages ago (like, 4 people responded) and found the same thing.
Basically, jobseekers spend SHIT TONS of time perfecting cover letters and applying for jobs through "traditional outlets" (job boards, company websites) but never hear anything back. This can be a huge blow to one's confidence and we all (should) know it's important to stay positive during the job hunt.
Get Positive, Be Social
I've found that the best way to stay positive and motivated is to get involved with social media. If you're open about looking for work, connections (via Twitter/Facebook/LinkedIn/etc) are always supportive and the steady influx of new leads is a great way to see progress rather than the insanely stressful sending of resumes into the internet abyss. With social media you stay exactly that – social. Keep in touch with industry news and people in your field you might not have met otherwise.
To Publicize or Not to Publicize?
When you first decide to drink the social media Kool Aid, figure out if/how you want to publicize your job search. I think it's a fine line, but by publicizing your search you:
Get more people involved. When people congratulate in your successes you automatically feel more awesome about yourself.
Get more people involved. The wider your network the more chances someone will think of you if they hear of an opening.
The problem with shouting about the hunt from the rooftops is that it looks kind of desperate and promoting it too much looks unprofessional. I found that more people asked for interviews after I was hired. You know, the whole grass is greener thing. People only really start wanting you once other people show you're wanted.
I know people that instead of saying "looking for a job" they say something like "aviation professional" or "publishing professional". Something in your industry. Build your reputation first, then publicize that you're looking. People are more responsive once you've shown you're worth it.
Some people don't even publicize their job search, they let their Twitter persona grow first and then make a shout out that their looking for work. Just a little summin' summin' to keep in mind when creating a job-hunt-appropriate social media profile.
Blog and Look Smart
The second best thing about using social media for your job search AND as a positivity booster is that it makes you feel (and look) smart. By keeping up-to-date on industry news you can be 100% confident that you know your industry. No, don't read boring stuff in the paper, find the best blogs! My favorite tips:
Jot down a list of the top 10 industry blogs. Comment on those blogs. Make friends with the bloggers.
Make sure you're reading these sites every day. Start your own site and give us your thoughts.
Join relevant groups on LinkedIn. Ask questions and become a part of the conversation.
Spent 15 minutes a day going through LinkedIn Answers. It's not just about asking questions, but helping other people out. I landed 3 clients in an hour using this trick and just by spreading the love you can find job leads. If you want to learn more about how to do this I created a free video here.
Even if your social media efforts don't land you an interview right away (which it often does), having a support group of people in your industry when trying to find work can be hugely beneficial.
Enter Pajama Job Hunt
Oh, and did I mention I'm actually launching a course on using Twitter as a job hunting tool? Yeah, it's rockin'. Click here for details, but it's a ridiculously fun and comprehensive, 3-part video training was created for recent grads, job seekers and freelancers. Ready to use Twitter to build a strong network, land work fast, make some serious money and – wait for it – stop wasting time applying for jobs the old-fashioned way?
Enter COTJ Contest
Richie and I are giving away the program to one lucky blog reader, worth $47 FOR FREE ($37 for the first week).  Here are the rules:
Leave a comment below about why you want to win the program (mandatory entry).
Tweet about the contest. Sample tweet: Win the Pajama Job Hunt: Twitter Series by @marianschembari via @cornonthejob. Contest details here: http://bit.ly/9gSdr3 Tweet up to 3 times (+1 entry for each tweet)
Write a blog post about the course and why social media is important to your job search. Link to it in the comment section. (+2 entries)
Contest ends Monday, June 7th at 9AM.  Get in your entries before then folks.
WINNER ANNOUNCED – Kate Wiseman