Braden Young is a super fan of Krispy Kreme donuts.  Want to know how deep this passion runs?  Back before the tasty donut company opened up shops in Philadelphia, Braden would occasionally stop by the local Acme grocery store and pick up a dozen just for himself.  I must admit, it wouldn't have been rare to see me doing the same thing often during my college career.  Don't judge Braden and I until you've tasted a freshly made glazed Krispy Kreme donut!  Trust me, your life will never be be the same.
Braden's "Hire Me" Campaign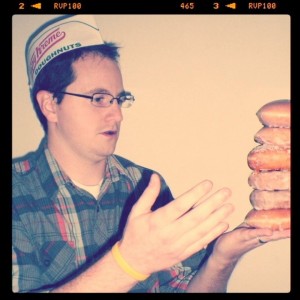 When Braden noticed Krispy Kreme was hiring for a Sales & Marketing Manager, he saw an incredible opportunity to sweet talk the company through a creative "Hire Me" campaign. Genius!  Cornz is smiling!
Braden explains his thought process further, "Krispy Kreme Philly is very productive within social media, so I was positive one of their employees would eventually see my campaign. It just felt like a simple way to put myself out there and gain support from my network."
Braden knew his idea was clever, and was certain someone would eventually notice his efforts, but I'm positive Braden had no idea things would move so fast.  Are you ready for this?  It only took Krispy Kreme 4 hours to contact him and then 3 days later he interviewed for the role!  Holy Donuts, Batman!
Oh, and I guess I'll put your curiosity at rest now.  Yes, Braden did get the job.  He is now Krispy Kreme's Sales and Marketing Manager!
What I love about Braden and this story is the fact that he never thought of sending a standard resume & cover letter.  "I figured that if I was going to go for it, I had to do it right and find a way to stand out", said Braden.  Oh boy, did it work!  The company said they were extremely excited to see his campaign, and couldn't wait to talk to him.  Jackpot, baby!
Check out Braden's "Hire Me Krispy Kreme" Facebook & Twitter page, and then look below to grab a gander of his jaw-droping custom cover letter.  It may be the most bad ass cover letter I've ever seen.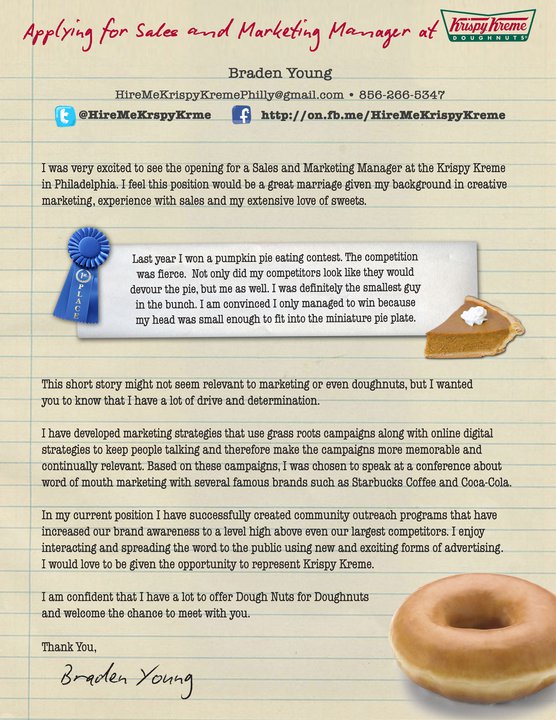 You can contact Braden on Twitter @hiremekrspykrme or @bradeny
What are your thoughts on Braden's "Hire Me" campaign?  Are you hungry for a donut, like me?