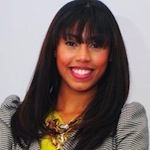 Emmelie De La Cruz, Founder of The Branding Muse, is the go-to expert for college students and young professionals who want to take control of their personal brand and thrive in the competitive job market. She loves tweeting so reach out: @Hermusings.
Whether you're a college student, recent graduate or well into your career, social media is a tool that can be used to find your next job or opportunity. The Jobvite 2013 Social Recruiting Survey found that 94% of recruiters already use or plan to use social media to recruit. They also found that about 80% of available jobs are never advertised.  With such high percentages, it is clear that regardless of your industry, social media is an outlet to increase your chances of landing a job.  In addition to LinkedIn, Twitter is a powerful network that employers are looking to for research on candidates' professional presence and cultural fit. HootSuite, the social media dashboard, allows you to monitor and engage on both networks from one place. You can utilize HootSuite to find jobs and create a personal brand that will help employers find you. Below are some strategies on how you can use HootSuite for your job search.
Since 80% of jobs aren't advertised, the network you build is going to be important in helping you find the right opportunities. With social media, you are able to expand your network beyond those in your local area and industry. On HootSuite, you can create a stream for your particular industry or hashtag and be able to monitor all the conversations happening around that term. An even better strategy is to create a stream that monitors the name of the company you are interested in working for. This will allow you to get in touch with employees of the company and stay informed on company news and any openings that might become available.
HootSuite has also made it possible to monitor openings from LinkedIn. The company has added a "Job Search" feature to streamline job-hunting efforts. After you have added your LinkedIn profile to your dashboard, you will be able to unlock a stream of opportunities and openings that will not take hours to find.
1. Go to your profile tab and click "Add Stream."
2. Once in the left sidebar, select LinkedIn as your network and click the "Job Search" tab. There, you will be able to select your profile and insert the term you would like to search for. HootSuite will pull in all of the jobs that include the keyword you typed in.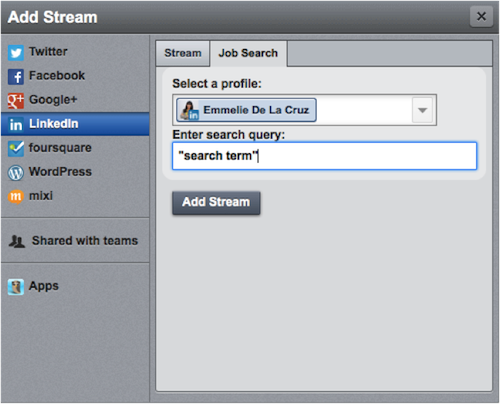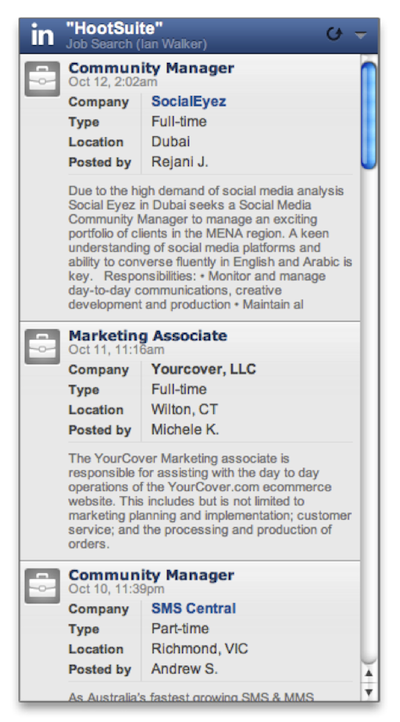 Monitoring multiple streams can be exhausting. Use HootSuite to have them all feed into one place so you aren't wasting time searching for information all over the web. You can use the hashtags below to find job openings that have been tweeted. To narrow your search also include the name of the position(s) you are seeking i.e. "#tweetmyjobs Public Relations Coordinator." This can get tricky so make sure you try different variations of search terms using broad industry terms.
Promote Yourself
Help the employers find you! Advertise yourself on Twitter once in a while. Let employers and your followers know that you are actively seeking a job. Be specific about location, industry, and position. For example: "@SyracuseU senior hoping to work in pharma corporate communications in DC post-grad. Have internship experience #HireMe" Seek and you shall find, my friends; ask and you shall receive.
To Educate Yourself
These tags may not directly land you a job, but they will enlighten you on the latest trends in finding, keeping, and enjoying a job.
In an increasingly social world, it is important to create an attractive presence online that shows that you are not only passionate but capable and professional. HootSuite is a dashboard that helps you do all three and improve the job-hunting process.