Disclosure: Post sponsored by Spherion, but all opinions are my own. Please see below for additional disclosure.
Spherion has created an "Evolution of the Worker" infographic, which highlights employee trends emerging from the last 15 years of the Emerging Workforce Study, a leading resource on the strategies that drive engagement and build brand influencers at work.   Spherion will release findings from its new 2014 Emerging Workforce Study in early April, marking the most recent year of research that began in 1997. In over more than 15 years, Spherion has surveyed nearly 200,000 workers to document groundbreaking research and report on important trends in the workforce.
The survey offers great statistics and trend information for HR managers and businesses, as well as providing tips on how to bridge the widening gap between employers' and employees' views.  You'll also find data on generational differences, work-life balance and how social/digital media can impact HR strategies to increase engagement, productivity and retention, among other topics important to the workplace
Some of the key findings include:
46% of workers agree that the recession has made them more interested in pursuing a work arrangement outside of traditional full-time employment.
By 2025, millennials will make up roughly 75% of the world's workforce. According to findings in the EWS, they are also most likely to leave—40% of them will look for a new job in the next 12 months. With so many Gen Y employees making up the workforce, HR professionals can't afford not to take notice.
Only 30% of employers said turnover/retention is their top HR concern. This lack of retention focus exacerbates the disconnect between employers and their employees.
45 percent of all workers believe a company's social media outlet is influential when choosing a new employer, yet only 27 percent of companies believe social media outlets are influential on how a candidate views their organization.
VIEW THE INFOGRAPHIC BELOW
PLEASE CLICK TO ENLARGE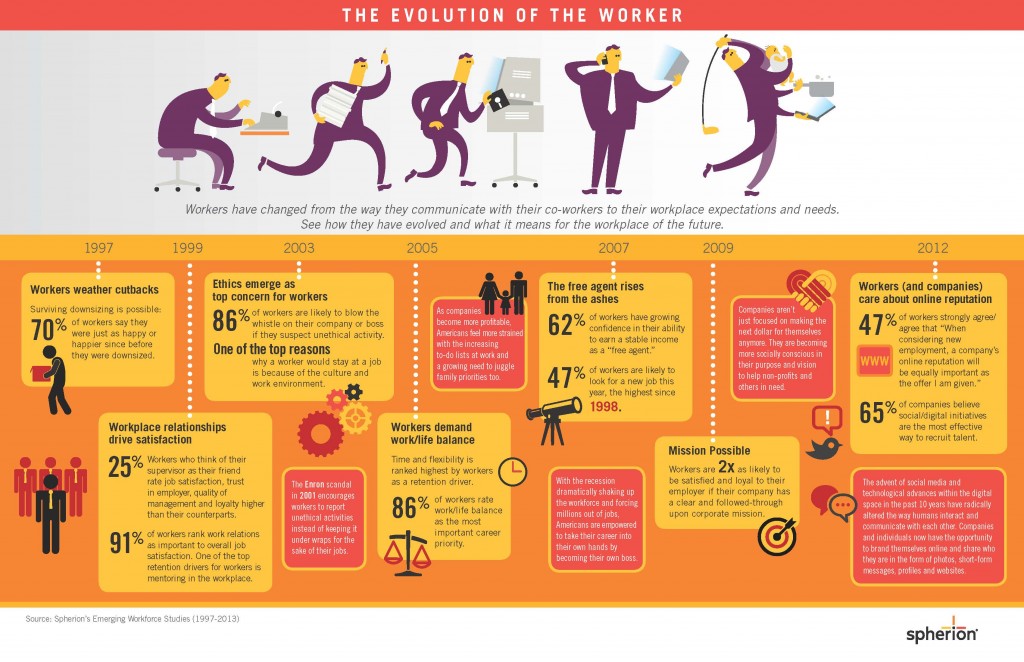 Want to win a $100 American Express Gift Card?  Keep reading…
In conjunction with releasing Spherion's Evolution of the Worker infographic, Spherion is also releasing a new "Job or Career?" quiz to provide workers more information about their own "job or career" mindset. I will be posting the details to this quiz next week.
Those who take the quiz and post their answers in the comments will be entered into a random drawing for the $100 American Express Gift Card.  Additionally, those taking the quiz will also be entered to win one of three Career Boost Business Packs from Spherion that includes an iPad air and an assortment of other office essentials.
Here's the contest information!
Disclosure Language:
Spherion partnered with bloggers such as me for their Emerging Workforce Study program. As part of this program, I received compensation for my time. They did not tell me what to purchase or what to say about any idea mentioned in these posts. Spherion believes that consumers and bloggers are free to form their own opinions and share them in their own words. Spherion's policies align with WOMMA Ethics Code, FTC guidelines and social media engagement recommendations. 
Related articles across the web