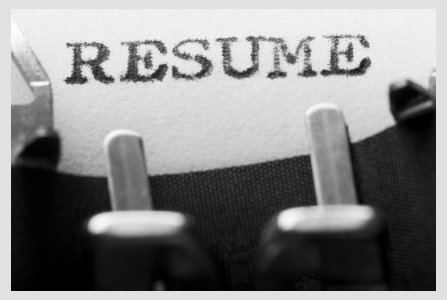 Writing a resume sucks.  It does.  The process is never fun, and most people have trouble knowing how to start, where to begin, and what information should be included.  Whether you're getting ready to start your first resume, or you're about to make some edits to an existing document, the following 15 resume tips should give you the basic knowledge you need to get moving!
1.    Determine the resume's purpose and direction.  The primary purpose of the resume is to attract the employer and get an interview. If your resume's purpose is to get a marketing job, then  you'll want to try to aim your resume to focus on marketing.  Seems simple, but many people fail at customizing their resume.
2.    Pay attention to typography. It would be best to stick with 11 or 12 font size and use either Arial or Times New Roman. I don't believe in going too crazy with font.  Simple is best.
3.   Don't ever mention any negative information on your resume, including that of your previous employer.  Stay positive, champ!
4.   Avoid color — unless you're a graphic designer or photographer.  Color might be alright for startup tech firms, but never for corporate jobs.
5.   Use bullet points.  Avoid using long texts or paragraphs. Keep in mind that employers don't have the time to read a bibliography. Just highlight the most important ones.
6.   It's OK to go over one page.  This is maybe the largest myth with resumes.  Just make sure that if you go over one page, all of the information is valid and shows your value to the company and the open role.  Here's a long post, with about 100 comments on this topic!
7.    Avoid using a PDF.  While it looks nice, try to stay with .doc's.  The reason being is that most organizations use an applicant tracking system (ATS) to review and receive resumes.  Not all systems will scan the PDF for information.
8.    The sections you should include are:  Name/Contact Info, Education, Career History, and Skills.  Some people like to use an objective statement, but I believe that is best for the cover letter.  Instead of an objective, try maybe adding in a profile section, or an area that you can highlight a few of your skills or accomplishments up top that you're most proud of. Read up on ways to format your resume for the most professional resume possible.
9.    Whenever you write down your strengths or good qualities, you have to back it up with work experienced or real life situations.  If possible, look for quantifiable information.  Example, "Helped raise $400,000 in one year.  This was a 150% increase from the previous year".  Remember, it's almost always about money and what you can bring to the organization.
10.   Title your resume in a way that it is easy to find it for the employer.  If you email it as an attachment, don't save it as "MyResume".  Try using your last name, position title, etc.  Some examples are DeMatteoResume, SmithMarketingResume, and LarryDavidResume.  Make sense?
11.   No pictures.  Keep pictures off of your resume.  If a company really wants to see you, they may head over to your LinkedIn profile, where pictures are acceptable.
12.   When putting information under each position, the most valuable information should come first.  Basically, your top bullet points should be most directly related to the company.  Doing this will ensure they are seen.
13.   White space is critical!  Please make sure to go easy on your reader's eyes.  Adding white space between each section will help your reader distinguish between each grouped section.  It may force it to go over one or two pages, but that's OK.
14.   Keep personal information out.  Information about your family, religion, sexual preference, is right near the top of what's not needed on the resume.  It should be strictly business.  Once you're hired you can open up a bit about personal matters if you'd like.
15.    Resume paper is not needed.  We don't care what kind of paper you use.  As long as the information is solid, we can clearly read the resume, and  you have the skill we need, then we really don't give a damn about the paper.  Save yourself some coin, and use regular white paper for your resume.
Bonus tip: if you need more help with your resume writing, proceed to BusinessThePensters.
If you'd like more focused help with your resume, please see my Job Seeker Services page for information on my resume review service, as well as other services I provide.  Here are some reviews from recent clients: